The Imaginary Friend
The Imaginary Friend tells the story of an 8-year-old boy with an extremely vivid imagination. He has a friend; you. He tries desperately to convince his parents and friends that you are real. Because he is not crazy, is he?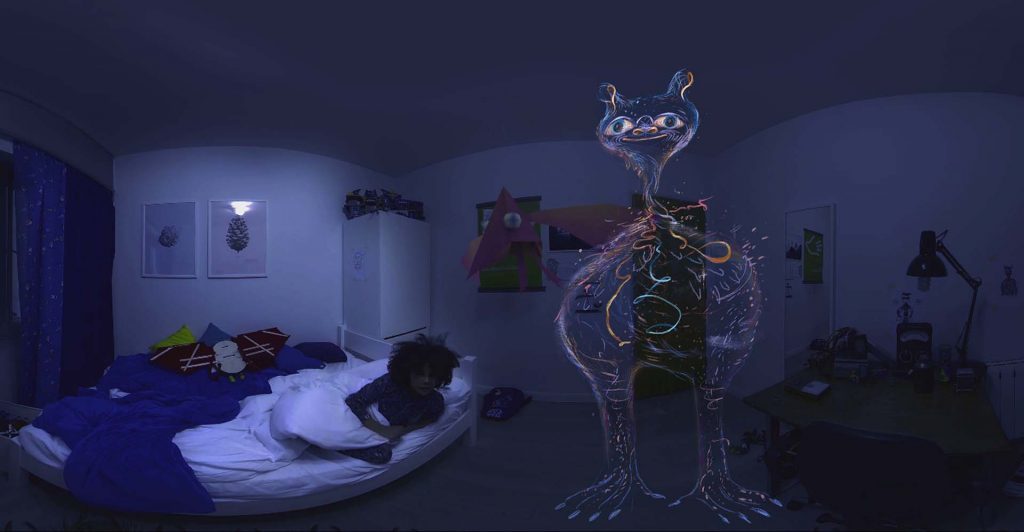 The Imaginary Friend is a virtual reality film by Steye Hallema. This film is currently in development. It is produced by Submarine Channel and The National Theatre.
Length: 21 mins
Language: English
Story
The Imaginary Friend is a surreal cinematic VR experience for all ages in which the viewer (you!) plays the part of the imaginary friend of an 8-year-old boy, Daniel. The story is told from your point of view. How does it make you feel when Daniel does things on your behalf that might cause him harm?
The Imaginary Friend explores the intricate relationship between the viewer and the story in VR. The experience focuses on VR's unique ability to give the viewer a sense of presence in the story. But most importantly: the Imaginary Friend is a heartfelt story about a boy learning how to deal with being different.
Director Steye Hallema
Steye portrayed at the Venice Film Festival, where he pitched The Imaginary Friend with producer Corine Meijers at the Venice Production Bridge.
View this post on Instagram
Steye is a director with a background in computer animation, music, theater and tech. Steye brings imaginative ideas to life within the highest standards of quality, both in pushy commercial environments and in a demanding artistic context. Steye always goes beyond the gimmick of new technologies and has shown to propel storytelling in every piece of VR he makes.
Steye worked as a creative at the critically acclaimed multimedia theater group PIPS:lab and was creative lead of VPRO's Medialab. He created the world's first 360º Music video in 2009. His VR music video What do we care4 was nominated for a UK Music Award in 2015 and is a worldwide hit amongst VR early adopters. His latest VR collaboration Ashes to Ashes – a Submarine Channel productoin – won gold at the dutch VR Awards. Steye works as creative director for his own company WildVreemd and works as freelance director for Jaunt VR.
Character designer Fons Schiedon
Fons schiedon is a director, designer and artist, working across all visual mediums from his studio in New York City.
He has created video content for Beyoncé's formation world tour, collaborated with FKA Twigs on her live experience, made an animated graphic novel of Mozart's Magic Flute and directed music videos for international recording artists. Back in the day he created one of the very first interactive graphic novels ever for Submarine Channel, The Killer, and the short animation In a Forest.
His work has appeared in The Guardian, the New York Times, Elephant, It's Nice That, Vice, Adweek, Creative Review, and more. It was shown at Cannes, Pictoplasma, Annecy; and broadcast by PBS, BBC, Arte, and others.
x
HELLO fellow human,
Please subscribe to the Submarine Channel newsletter. We will not bother you more than twice a month. Promise!