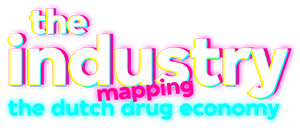 The Netherlands is the number one drugs country in Europe. Weed is in our genes, coke enters the country through the harbors, and XTC is as Dutch as chocolate sprinkles. How is it possible that in a regulated country like the Netherlands drug can be produced and traded on such a large scale? The interactive documentary, The Industry, offers an insight into this billion euro drug industry.
The Industry introduces weed growers, coke barons and drugs traffickers who tell stories about the kicks and stress of their illegal work. These personal stories are linked to interactive locations to provide insight into the Dutch drugs industry on both a macro and a micro level.
The industry is a co-production of Submarine Channel and the VPRO.
Watch Explanimations
Hard facts, shocking figures and fun factoids on the Dutch drug industry, animated. The i-doc contains 13 explanimations that work as standalone items. You're more than welcome to share any one of them via our Vimeo or Facebook pages.
Explore 3D interactive scenes
Throughout the interactive documentary, you'll come across 'hot' locations captured with a ZED 3D camera. You can explore an XTC-lab, a weed farm, or containers in the harbor used for smuggling. Some spaces are real, some are reconstructions based on existing spaces. As you move through these spaces you'll be listening to audio interviews with people from all levels of 'The Industry', like Jordy, an employee of a Dutch 'coffeeshop'.
"We used a ZED 3D camera. It scans the space and the objects in it and adds depth sensing, positional tracking and it has 3D mapping capabilities. We chose this technique because it emphasizes that the drug world is all around you, and we wanted to invite users to actively explore this. Also, I wanted to get away from video because, let's face it, video in interactive documentaries often doesn't work. People are impatient online. So I opted for a spatial way to navigate. The spaces are often reconstructions based on the stories of the people we interviewed."
Director Mirka Duijn
Radio Documentary and Podcast Series
The Industry includes radio broadcasts and a podcast series (both in Dutch). In addition, the episode of the tv documentary series Andere Tijden ('Different Times') on November 11, 2017, shows how old smuggling networks in the Dutch province of Brabant formed the foundation for today's drugs industry.
NPO Radio 1 broadcasts individual stories from The Industry: intimate portraits that reveal the networks of the drugs industry. From Sunday November 5th, 2017, every week for six weeks at 21.45, there will be an episode on RadioDoc (NTR / VPRO). The broadcasts are also available as a podcast series.
Broadcast information: RadioDoc: From Sunday 5 November, 6 weeks at 21:45 on NPO Radio 1. After that, you can listen back via vpro.nl/radiodoc or as a podcast via vpro.nl/deindustriepodcast.
About the interviewees
We would like to thank all the interviewees for their help: Duco, Erik, Thessa, Inge, Philip, Faiz, Jerry, Frank, Rinus, Henny, Jacco, Jordy, JP, Rinus, Sean en Bas. (Almost) all names have been changed. A number of interviews were dubbed by actors at the request of the interviewees.
The Industry- VR
The Industry VR is a part of transmedia documentary project that consists of the interactive documentary as described above, a series of radio broadcasts, a podcast and now a VR experience! The outcome: the drug trade is everywhere.
The Industry VR is selected for the IDFA DocLab Competition for Immersive Non-Fiction and had its world premiere during the 2018 IDFA Doclab expo at Brakke Grond in Amsterdam.
The VR will be available online in 2019.
x
HELLO fellow human,
Please subscribe to the Submarine Channel newsletter. We will not bother you more than twice a month. Promise!