Christmas Ads 2018
This is the third year I'm doing a Top 5 Best Christmas ads (check out 2016 and 2017). But this year, it has to be said, there seems to be a certain creative fatigue in the air. This is also the first time ever a Christmas ad was banned from TV for being too political!
by Maria Dicieanu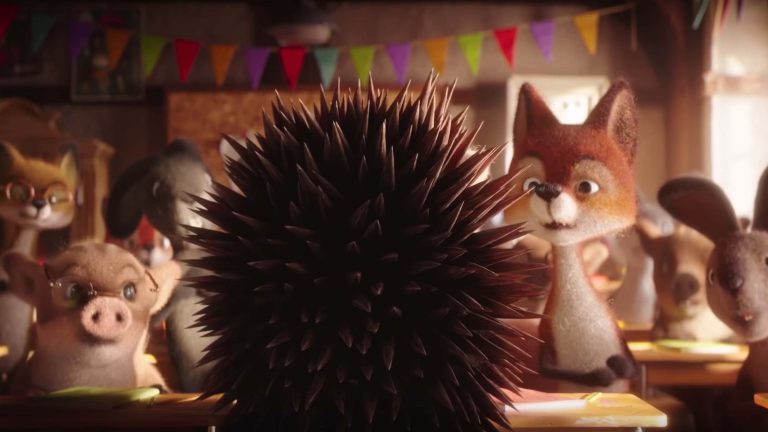 Online, I see people sharing ads from previous years, rather than new ones. Brands like M&S, known for their cutting edge promos such as Christmas With Love from Mrs Claus, did a plain, uninspired, in-your-face ad this year (Must-Haves? Really, M&S?).
In terms of production value, I definitely see some improvements. Some of the ads are simply stunning, like the character design for the Apple commercial – an ad with an otherwise rather weak storyline. It remains to be seen whether Christmas ads will remain a sustainable genre, or if they will slowly fade away.
Now let's get on with my five stand-outs (and not always for the right reasons) for 2018.
Iceland's Rang-Tan by Salon Alpin @Passion Pictures
Meet the first ever Christmas ad that was banned from TV for being too political. So where are the politics, you ask? Well, the "ad" was, in fact, a short film commissioned by Greenpeace to lobby against the usage of palm oil. Iceland food retailer bought the rights to have it as their Christmas commercial, but the film's history could apparently not be ignored. The move by Clearcast to ban the ad might just be another nail in the coffin of Christmas ads.
Fortunately, Rang-Tan and its message did go viral online. No big surprise there given the fab animations by Passion Pictures, the powerful message and the brilliant narration by Emma Thompson.
Erste Group – What would Christmas be without love? by Kyra & Constantin @Passion Pictures
Kyra & Constantin were responsible for my favourite ad of 2017 (and you might like to know that Finn did make a come-back!). This year, the duo delivers another top-notch animation both in terms of story and technique. The textures and fluffiness of the characters are absolutely unreal yet incredibly tactile. As for the story, you can't fault it! It's the perfect balance of Christmas cheesiness and heart-warming vibes.
John Lewis and Partners – The Boy and the Piano, Seb Edwards @Park Pictures
For having invented the concept and for always striving for excellence, John Lewis & Co have always been among the stars of the Christmas ads parade. Yet this year's collaboration with Elton John brings back a 'real' feeling their ads used to have (in 2009, 2010, 2011) but seem to have lost along the way. The fact that this is not just another Christmas fairytale, but the 'real' story of a pop icon, makes this ad all the more powerful. The impressive musical career of Elton John did start with a Christmas gift, a piano.
Clas Ohlson Sverige – God Stressfri Jul by Adam Berg @Indio
Christmas adverts have long ago ceased to be solely a British tradition as this Swedish commercial proves. Made by Indio for shopping retailer Clas Ohlson, the ad prompts viewers to unburden themselves from shopping stress and simply purchase everything at their online platform.
The images speak for themselves as we are quite bluntly shown what celebrating Christmas has actually turned into. The end slogan means "save the day" and aims to bring back the good mood, but truth be said; we need more than an online shop to make things right again! And it's perhaps high time we actually reflect on Christmas consumerism.
Burberry – Close Your Eyes and Think of Christmas by Juno Calypso
By far, the most intriguing and visually spectacular ad of the year, despite the director aiming for a 'more realistic view of Christmas'. And how wicked is that cast (I mean, M.I.A. in a Christmas ad?).
Then again, it's not really a Christmas ad. I mean, it doesn't have an uplifting message. If anything, this ad feels arrogant. Like, "look at our brand, clothes and money bringing all these cool stars to our own private party which you can only join if you buy an over-priced Burberry clothing item… Oh, and by the way we're not even going to bother with cheesy Christmas values because we're beyond that".
Actually the more I look at it, the more Grinch I get about it. They make sure they include women of all ages and colors. A close-up of Kristin Scott Thomas looking worried, so you can see the "lines" in her face. "We speak to all women" is what they're going for. But it's more like, "we speak to anybody posh and looking great, regardless of age and skin tone".
Definitely torn about this one, but one thing's for sure: this ad I'll definitely remember next year as well for better or worse.
By Maria Dicieanu
@ricutza
Former 2Pause.com editor and now guest editor Maria Dicieanu is our right honorable movie geek. She is the living manifestation of a multimedia app and loves trawling the world wide web for the finest music videos, likes to get her digital mitts dirty with conversions, uploads and video edits for Submarine Channel, and also flirts with transmedia-related journalism, reporting from festivals like Cannes, Berlinale and IDFA for European Cinema collective NISI MASA and Submarine Channel.