Annecy 2018
It was time to recharge my creative batteries. So when the opportunity presented itself to tag along with some of my Submarine colleagues to the world's biggest animation fest, I seized it. While they were busy meeting and pitching at the MIFA –Annecy's Animation Film Market– I spent most of my time in the cinemas catching as many feature films as possible. I didn't do all that bad, considering getting tickets to screenings in Annecy can be a total drag. But more on that below. Here's my top 5 animated features from Annecy 2018.
By Remco Vlaanderen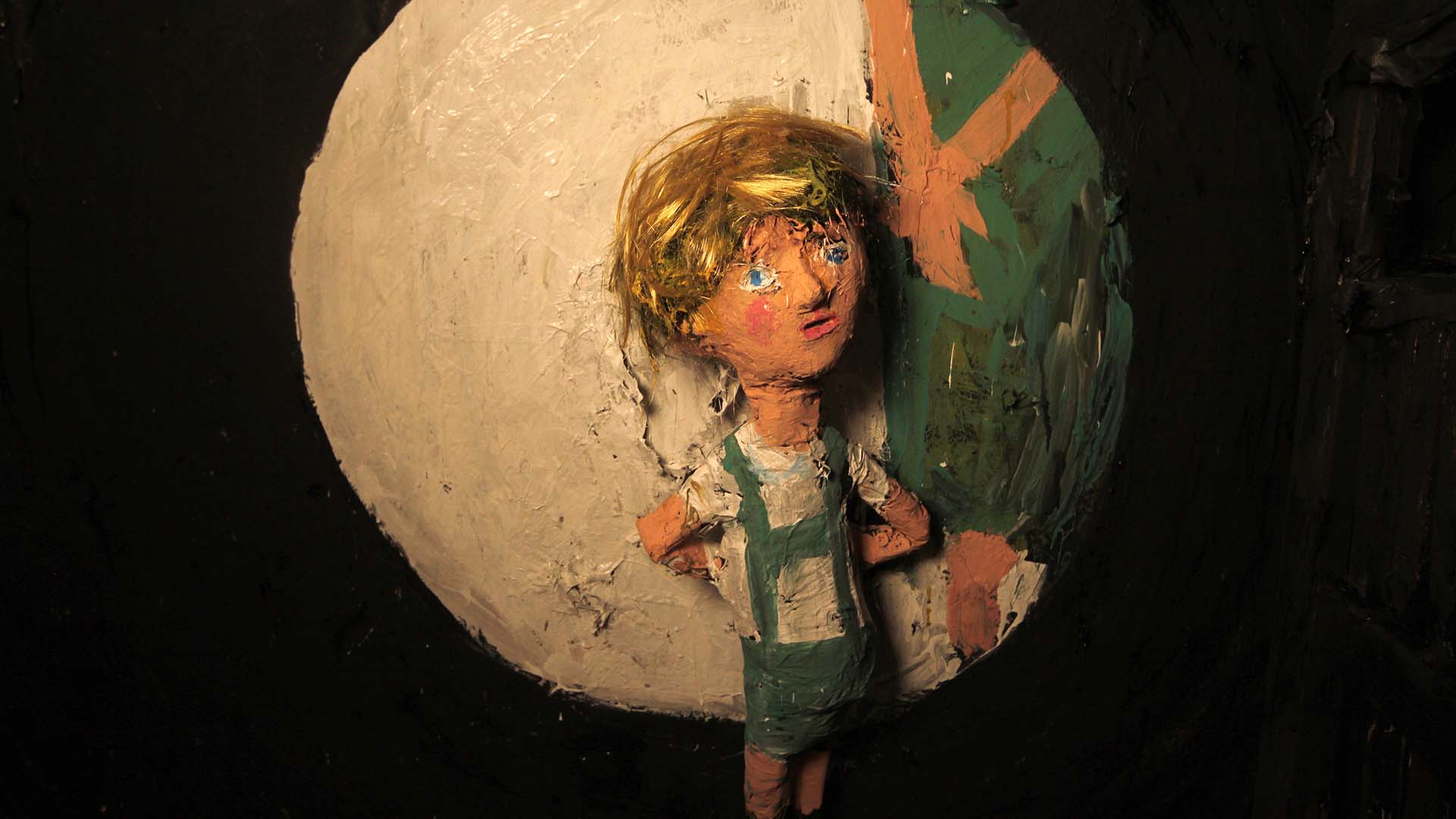 La Casa Lobo (The Wolf House) – Cristóbal León and Joaquín Cociña
The stuff nightmares are made of…
This experimental stop motion feature by two Chilean artists is a disturbing fairytale about a young woman, Maria, who escapes from a German sect. The directors were inspired by a former "nazi cult" in the south of Chile. Haunted by cult members and by an archetypical big bad wolf, Maria finds refuge in a house in a dark forest where she lives with two children.
The directors worked with lifesize sets inhabited by extremely uncanny looking characters constructed from tape, paper mache, strings or painted on the walls. The characters are in a constant state of flux, materializing and dissolving from one scene to the next, mirroring the eternal cycle of life, decay and death. The animation was filmed over the course of several years at art galleries and museum all over the world. An incredible film that creeps under your skin.
Interview with León and Cociña by Berlinale (YouTube)
The Breadwinner – Nora Twomey
Adapted from the best-selling children's novel by Deborah Ellis, director Nora Twomey (The Secret of Kells) and production studio Cartoon Saloon created a beautiful drama about an 11-year-old Afghan girl, who disguises herself as a boy in order to provide for her family. Like her father, Parvana is a storyteller. While the bulk of the film looks naturalistic, the stories told by Parvana and her father are wonderfully visualized in a paper cutout style developed by art director Reza Riahi.
I'm surprised that The Breadwinner did not get the wide international theater release it deserved. If you're in the US you can organize your own screening through the Theatrical On Demand service, Gathr. You can watch it on Netflix in some countries though, including The Netherlands. It picked up the Jury Award and the Audience Award in the competition section in Annecy.
The Breadwinner – Introduction to the animation process
Video on the cutout process on YouTube
Another Day of Life – Raúl de La Fuente and Damian Nenow
I'm usually not big on war movies, but this docudrama made a big impression. And it features some of the most dynamic camera work I've seen in animation.
10 years in the making, Another Day of Life is based on the book by Ryszard Kapuściński. The internationally renowned Polish journalist and writer was one of the very few journalists who reported from the frontlines during the bloody civil war in Angola in 1975. The film folllows Kapuściński as he travels to the heart of the conflict to meet the elusive General Farrusco. He meets some remarkable characters along the way, such as the 19-year-old charismatic guerilla leader, Carlota.
The film mixes 60 minutes of graphic novel-like animation (developed from live-action footage featuring actors) with 20 minutes of documentary sequences. And although it was nice to meet some of the characters 40 years after the events from the movie, I am not convinced these interviews were necessary. Nevertheless, a must-see film.
Item on creating the CGI by CGMeetup (YouTube)
Annecy interview (YouTube, 18 min.)
The Last Fiction – Ashkan Rahgozar
I've seen some great Iranian movies over the years, but never any animation. The Last Fiction is a classic story of good versus evil based on the famous poem, Shahnameh (The Book of Kings) written by the Persian poet Ferdowsi some 1000 years ago. It tells the story about a flawed young hero who is predestined to save a kingdom and its people from the heartless conniving ruler Zahak. Chocful of extended action scenes and visual pyrotechnics, The Last Fiction has 'Epic' written all over it –heroes, monsters, magic, destiny, big battles– it's all there. Clearly, this film was made with the intention to appeal to larger audiences. A very entertaining film. I can totally see this getting scooped up by a streaming service. In line with the grand ambitions of the film, Hoorakhsh studios is releasing a series of graphic novels (also in English) as prequals and sequals to the story.
Seder Masochism
I'll be honest. I did not like this film at first. I didn't know what to think in the first half hour or so, but it grew on me. I just had to include it here out of sheer and utter respect for Nina Paley. Seder Masochism is the director of Sita Sings the Blues' highly anticipated second feature. This film is an oddity. You can't stick any label on it. It is an offbeat animated musical retelling of The Book of Exodus performed by a cast of characters from the Old Testament, including Moses, Aharon, the Angel of Death and Nina's own father. Paley's 'pirated' soundtrack consists of 1970s europop, disco, soul, spirituals and choir music. (See also her TedX talk Copyright is Brain Damage on her view on the use of music in her films). I really loved the recurring scenes with her father, who is depicted as a white-bearded God. Paley casts herself as the sacrificial lamb.
You will be able to see this film online in the near future, as Paley promises to self distribute. In the meantime, catch it at festivals.
More clips from the movie on Nina Paley's Vimeo
Conclusion
According to Mickaël Marin, CITIA Managing Director, both the festival and Mifa have grown again in 2018: badgeholders +17%; Mifa badgeholders +22%. But the capacity of Annecy and its screening rooms is limited. How will Annecy tackle this ongoing growth?
Mifa is a great event for doing business – everyone who is anything in animation is in Annecy. But it is not the best fest if you want to explore the current state of animation. Simply because it's too difficult to get tickets, unless you're prepared to queue in line for up to an hour for popular screenings. More than a few animation pros had warned me about this though, advising me to go instead to Animafest in Zagreb and other, less crowded but equally fine festivals. But I wanted the Annecy experience.
It's fun to spend time in the picturesque town. The collective love for animation in Annecy is almost tangible. But unless I need to be at the market to pitch or sell, I don't think I will be going again anytime soon.
By Remco Vlaanderen
@veryremco
Remco is the editor of Submarine Channel, and he occasionally produces animation and game projects, such as the interactive graphic novels The Art of Pho and Ascent from Akeron. He initiated and ran the popular website about film title design, 'Watch the Titles' for many years. And he recently launched Screendiver.com – an online directory where readers can discover the best interactive comics.