Remote Storytelling: When A Computer Screen Is The Only Set You've Got
Remote Storytelling: When A Computer Screen Is The Only Set You've Got
In this time of widespread remote working and intense video calling, my computer screen is the only interface between me and the outside world for hours on end.
I'm not complaining. A computer screen is a magical environment where just a few inches of a thin-film-transistor liquid-crystal display with LED backlighting can evoke worlds of texts, videos, and a myriad of other software applications.
With all these possibilities, it's not surprising that, over the years, several artists have tried to use it as a theatrical scenery to tell a story. For example, you may have heard of "screenlife films," movies where the action takes places entirely on a computer screen. More often than not, these films are just gimmicks but there are exceptions. And what about a "screenlife video game"? Or a "screenlife TV series"?
For our series of articles on the most unusual, weird ways to tell a story, we bring you a great movie, a great video game and a great TV series (well, sort of) that take place entirely on a computer screen. Trust us: after checking them out, you'll start seeing the few inches of your laptop display as a wondrous canvas brimming with artistic potential.
1) The movie: Searching (2018) by Aneesh Chaganty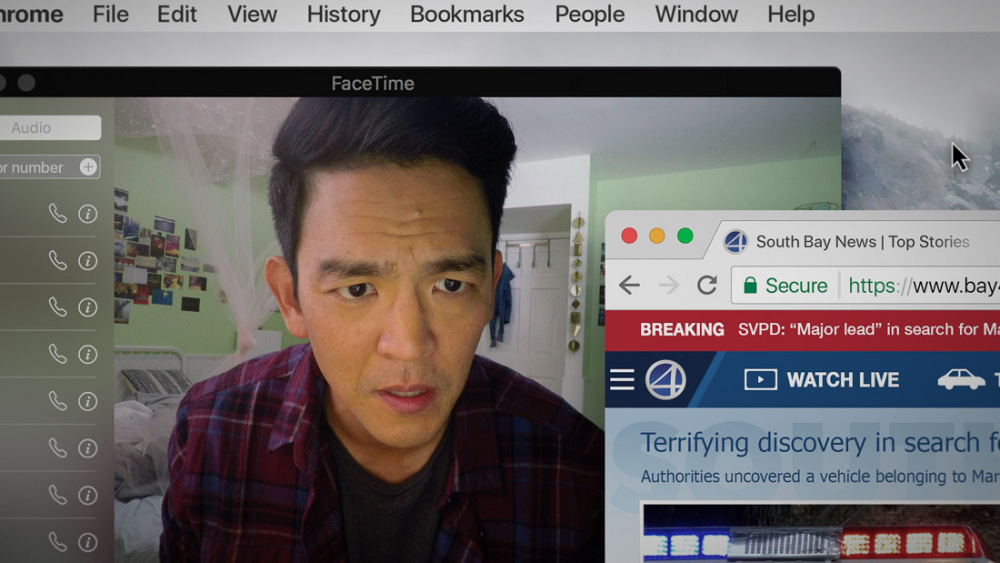 Produced by Timur Bekmambetov (the Spielberg of screenlife productions who just signed a deal with Universal to make five more films using the same format), Searching is a tense thriller about a father trying to find his missing 16-year-old daughter. In between YouTube videos, Facebook profiles, Skype calls, and subreddits, the movie makes the viewers feel like detectives who are piecing together the events.
The story is told uniquely from the POV of computer and smartphone screens. For example, when the father drives to a place where he believes his daughter disappeared, we see just a blue dot advancing frantically on Google Maps.
Making a movie this way is certainly fraught with obstacles. "We had a joke that a normal movie is pre-production, production, and post-production. And our movie is pre-post, post, and post-post," commented director Aneesh Chaganty in an interview to ScreenRant.
"It's really just a very, very interesting acting challenge," he added, "because often the actors are the cinematographer too […] We were all kind of figuring it out together […] it was sort of like playing a new game, which is fun."
2) The video game: Telling Lies (2019) by Sam Barlow
I've never felt more immersed into a desktop environment than when I was playing Telling Lies, the 2019 full motion video game directed by Sam Barlow (the same guy behind the equally acclaimed interactive movie Her Story).
The game plays out on a functioning, virtual desktop computer equipped with its own operating system. Here, the computer screen is a rabbit hole into which players dive to untangle a complex web of secrets and, well, lies. In short, the goal of Telling Lies is unpacking a dense detective story rummaging through video calls and looking up things with a search engine but the boundless narrative possibilities, the degree of freedom granted to the player and the eerie reflection of your character in the screen make it an unforgettable experience.
Telling Lies has been recently ported to PS4 but it obviously shines the brightest on a computer screen.
3) The TV series: The Office on Slack (2020) by MSCHF
Ok, this is kind of cheating, but it's worth it. Do you know MSCHF? Maybe you don't know the name but chances are high that you heard of their "products." Remember the pair of Jesus-inspired, Holy-water filled sneakers that was sold for more than $3,000? Or the phone number that texted you an endless stream of AI-generated feet pictures? And what about the Chrome extension that camouflaged Netflix as a conference call? Well, all these viral, dadaistic pranks were courtesy of MSCHF a mysterious collective of artists based in Brooklyn, New York. And the biggest joke of all is that they raised $11 million from investors along the way.
In May, they went, once again, viral recreating every episode of The Office on Slack, the popular work communication platform. Every weekday, from 9 to 5, visitors could pop by different Slack channels to experience a remote work-friendly, GIF-enhanced version of the comedy show. It was peak internet, as it's often the case with MSCHF's stunts.
In a time when productions where halted almost everywhere, someone even speculated that this could have been the future of TV. Hopefully, it's not the case but it certainly is a testament to the narrative possibilities of our computer screens and of even the most boring softwares that populate them.
Credit header image: Annapurna Interactive