Manfred (In development)
Immerse yourself in an animal fable about autumn, the importance of sharing, and pumpkin bread. Manfred is a beautiful, handmade virtual reality puppet film for kids in development. Manfred was successfully funded on Cinecrowd. Thanks to everyone who believed in Manfred!
Directed by Gatze Zonneveld, Manfred was selected by Submarine Channel out of 80+ film proposals thats were submitted to De Ontmoeting – a Dutch initiative that connect upcoming filmmakers with the film industry in The Netherlands. This is how this works: Submarine Channel will invest €5,000 in this project, if Zonneveld manages to crowdfund another €5K himself. If you can, donate €10 or more on Cinecrowd! and help Manfred get made. Of course, there are tax benefits and super cool rewards.
Manfred by the awesome Lois van Baarle on Instagram!
Premise
The friendly neighborhood monster Manfred is walking through the forest, looking for the ingredients for his pumpkin bread. During his search he meets the other creatures of the forest, but will they help him on his quest?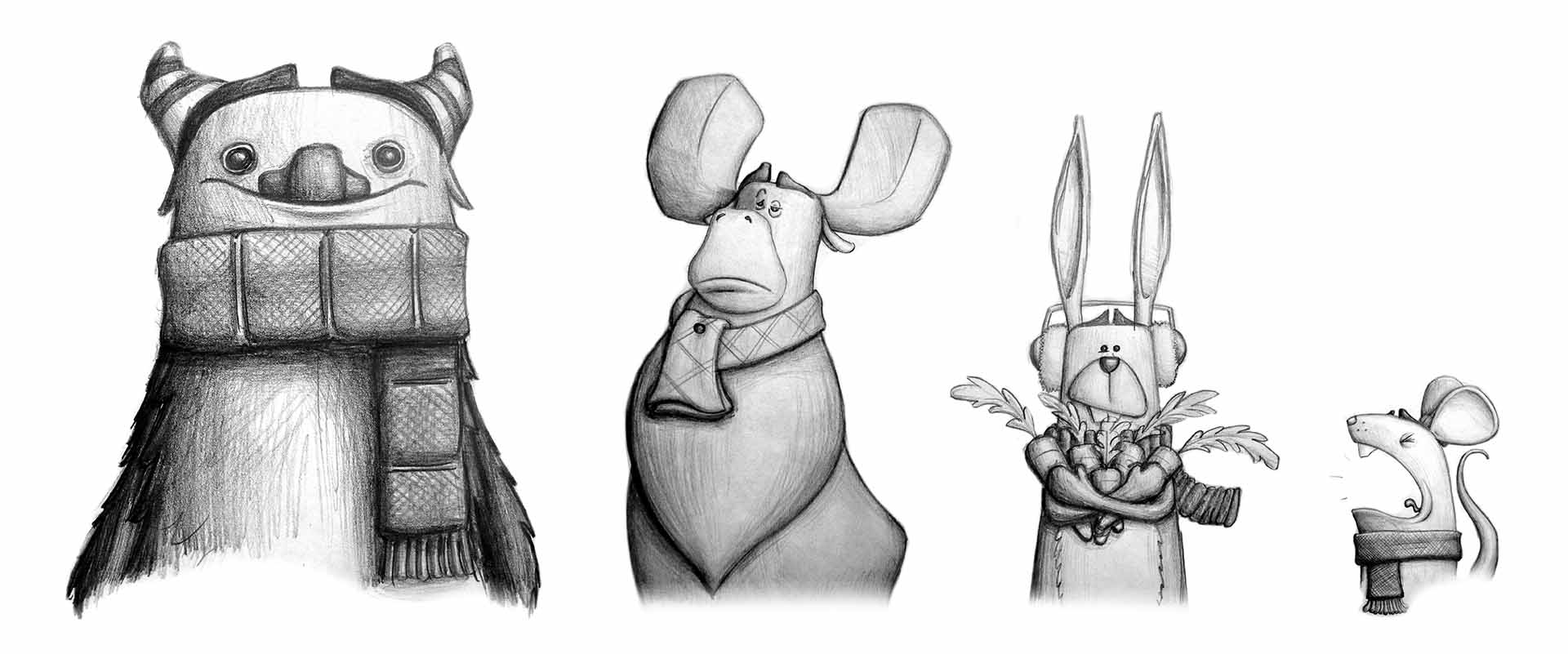 The film
You're dropped in the middle of a fairytale forest and the story unfolds all around you. You interact with Manfred and you're encouraged to look around and explore the forest, and in doing so, you help Manfred on his quest to find the ingredients for his pumpkin pie.
Primary platform: Tablet, Smartphone.
Inspiration
The film originated from the idea of a virtual reality puppet theater, in which the viewer is placed in the center of a puppet world. "I've been interested in VR for a long time and in my other work I always try to immerse the viewer in atmospheric, animated worlds," says Gatze.
"I also love children's books like the Gruffalo, Frog & Friends, I want my hat back and Bringing down the moon and puppet shows like Sesame Street and other Jim Henson productions. With Manfred all these things come together in a totally new and unique experience, in which I combine cutting edge virtual reality technology with traditional, handmade puppets."
Style & Technique
The film is set in the middle of a beautiful, colourful fairytale forest. It's the beginning of autumn, the leaves are red and orange and the warm sun shines through the morning haze, giving everything a soft, orange glow.
The film will be shot with a 360° camera in a miniature set. The characters will be hand puppets, that are able to freely move through the set, all around the viewer. And everything in the film will be made out of felt, wool and other fabrics, giving everything enormous tangibility and handmade charm.
About Gatze Zonneveld
Gatze Zonneveld is an animation filmmaker who has his own boutique animation studio RocknRoll Animation, in Utrecht. He makes short films and TV-series, commercials, bumpers, leaders and explainamations for a number of clients. In 2007 he graduated from the HKU University of the Arts Utrecht, with his exegesis Immersive Animation / Treehuggers, in which he researched how to optimally immerse a viewer in animated worlds. Gatze: "Back then of course, there weren't any VR goggles or 360° video, but because of recent technological advances, it's now, better than ever before, possible to transport a viewer to a different world. And that's exactly what I want to do with this film."
About De Ontmoeting
De Ontmoeting is a Dutch initiative that connects upcoming directors with the film industry in The Netherlands. In 2017, the third open call for short film proposals resulted in over 80 submissions. Four production studios and broadcasters, including Submarine Channel, each selected their one project from the submissions. Selected projects received 5,000 euros from their respective producers, provided the creators manage to successfully crowdfund an additional 5k or more through the Cinecrowd platform. All four short films will premiere in the Fall of 2018. In 2017, Submarine Channel produced the animation Word! by Amos Mulder as part of De Ontmoeting.
x
HELLO fellow human,
Please subscribe to the Submarine Channel newsletter. We will not bother you more than twice a month. Promise!